The tiny house movement has exploded in the last 5 years. What started in rural populations has expanded to residential areas and is quickly becoming one of the newest ways to build affordable housing. Tiny houses have a large following with minimalists. In an attempt to decrease the clutter and get rid of unnecessary consumerism, minimalism has established its place among the tiny house crowd as a way to change your way of thinking and lifestyle, thus improving quality of life.                                                  (Photo courtesy of The Tin Can Cabin)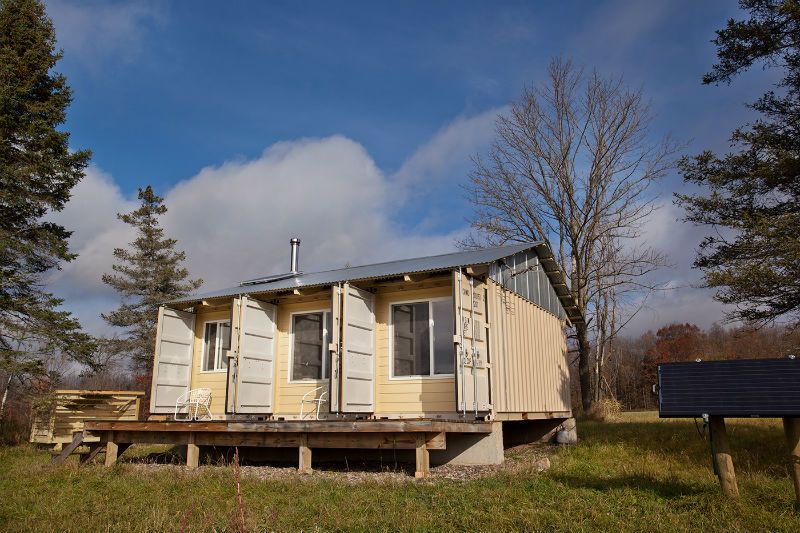 Not only is it minimalistic in nature, it is also incredibly cost effective. Most people build their own tiny houses, buying land and often a base unit, it makes home owning affordable for a generation of people who are swimming in student loan debt.
While there are companies that charge to create a tiny home for you, a lot of people are opting to DIY; relying on youtube tutorials and home improvement experts. Rolling up your sleeves, building your own Tiny House can be as simple as paying for material costs and getting to work.

It also encourages a sense of community. Tiny home builders often scavange for recycled building materials from local businesses and help in a "barn raising" mentality of local family and friends. A group effort helps cut down costs and build lasting connections.
Creativity is a large part of the Tiny House movement. It allows home owners to put in unique and personal touches that reflect personal style and preference. Ingenuity and the ability to recycle things for multiple use is incredibly appealing to the creative process. When you walk into a tiny homeowner's space, you can get a real sense of who they are and what they are about by what materials they've used and what style they've incorporated in their space. It's definitely a dynamic way to showcase personal style.
While there are a lot of material options for building a tiny house, a shipping container is a natural choice for a variety of different reasons. For starters, they are water tight which is a huge plus to already have a base that can keep water out cuts down on building time and ensures that once it's built- it's staying dry. Containers are also incredibly durable and can be built brand new- making them ideal candidates for someone wanting to build new. They are also an affordable alternative to buying wood materials and building from the ground up.
In most cases we can also assist the buyer by framing windows and doors and making cuts where needed and desired. Financing tiny homes might be the most difficult thing and when you buy a container, you not only own it, you already have a base to start from.
They also offer mobility for easy transport- allowing for a building site and a final home site to be different. This can be key to a fast and affective build.
 
Using a storage container is an excellent option for tiny house DIY builders and we offer a wide range of sizes for just such a build. With national delivery- we can get it to almost any build site, which is what makes Cherokee West such a great option for the tiny house movement.
If you are interested in a free quote, give us a call at: 866-354-4025 or fill out our Free Quote Form and we will get back to you with a quote within 24 hours.